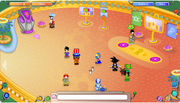 The Robots Arena is a room that Robots can battle. You can buy a robot here, build a team, play Robots, and see rates. It's one of the newest rooms.
It replaced the Rockemall Street, making some Chobots sad and not playing Robots.
It's one of the most known rooms on Chobots.
Ad blocker interference detected!
Wikia is a free-to-use site that makes money from advertising. We have a modified experience for viewers using ad blockers

Wikia is not accessible if you've made further modifications. Remove the custom ad blocker rule(s) and the page will load as expected.