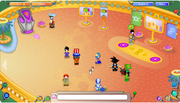 The Robots Arena is a room that Robots can battle. You can buy a robot here, build a team, play Robots, and see rates. It's one of the newest rooms.
It replaced the Rockemall Street, making some Chobots sad and not playing Robots.
It's one of the most known rooms on Chobots.