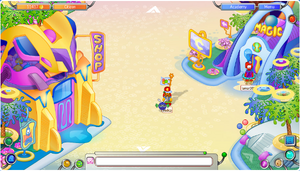 Rooms are special areas in Chobots. Lots of rooms contains buildings, game, or way more! Rooms also can have parties, such as the Cafe Street, hosted by Moderators. They also have color balls which you can throw to change a tree's color! Lots of Chobots like to do many things at these places, and they can be decorated rarely!
Many Chobots like to go to the Cafe Street due to it's crowds. Lots of parties are hosted here as well.
Many Chobots as well like to go to the Park to form circles around the clock!
Since agents are sort of famous, some of them try to avoid crowded places.
Ad blocker interference detected!
Wikia is a free-to-use site that makes money from advertising. We have a modified experience for viewers using ad blockers

Wikia is not accessible if you've made further modifications. Remove the custom ad blocker rule(s) and the page will load as expected.